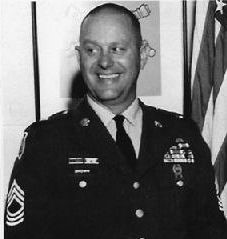 Battalion communications MSG for 2/17thFA  1967-1968
Gerald Frank Brown, 83 passed away peacefully Saturday, March 5, 2016, under the care of Gentiva Hospice, with his loving family at his side. He was born in 1932, on a farm in Pretty Prairie, to Charles and Persis (Brown) Brown. He was the youngest of nine children.
Gerald Frank enlisted in the U.S. Army from 1949 to 1970. During his service to his county, he fought in Korea, Vietnam and was stationed throughout the U.S. and Germany. He was awarded with numerous medals and ribbons during his military service, including: the Bronze Star Medal with Valor and Purple Heart. He began a second career after his discharge from the Army in 1970 as a Senior Electronics Specialist with the Kansas Department of Transportation which he retired from in 1994. From 1972 until his passing he resided in Hutchinson.
He was preceded in death by his parents and a son, Gerald Keith Brown.
He is survived by his wife of 66 years, Vinnice; children, Vickie (Brad) Peter, Patty Brown, Gerald Wayne (Debra) Brown and Gerald Leroy Brown; 10 grandchildren, 12 great-grandchildren and two great great-grandchildren. He was loved and cherished by all.
There will be a private memorial service in his honor, burial services will be held in a National Cemetery.
To share a memory or to leave a condolence please visitwww.hutchinsonfc.com.
---
Marion R. Richards Jr.  July 9, 1948 – February 5, 2015
Marion R. "J.R." Richards Jr., age 66, of Council Bluffs passed away February 5, 2015 at Methodist Jennie Edmundson Hospital. He was born in Ardmore, Oklahoma on July 9, 1948. He graduated from Thomas Jefferson High School and then proudly served his country in the United States Army. He retired from the Union Pacific Railroad. J.R. was preceded in death by his parents, Marion and Gladys Richards Sr. J.R. is survived by his wife, Jackie Richards; son, Chad Richards; daughters, Renae Nagunst and Tracy Richards; 4 grandchildren.
Visitation is Sunday from 2:00-4:00 p.m. at the Hoy-Kilnoski Funeral Home. Funeral service is Monday at 2:00 p.m. at the funeral home. Interment is in the Garner Township Cemetery.
Memorials are suggested to the Wounded Warrior Project.
---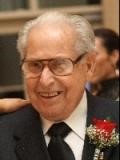 Robert Mitchell Kinton passed away on Saturday, March 5, 2016.  (April 10, 1921 – March 5, 2016)
Funeral service will be held at 1:00 p.m. Saturday, March 12, 2016 at Fuquay-Varina United Methodist, 100 S. Judd Parkway SE, Fuquay-Varina, NC 27526. Interment will follow at Cokesbury United Methodist Church Cemetery, 6678 River Rd., Fuquay-Varina, NC.
Robert Mitchell Kinton and his beloved wife of 69 years Katharine Cornelia Champion resided in the northern Harnett area.
In February 1941, "Bob" volunteered for the U.S. Army and served 4 years with the 17th Field Artillery as a field cook. He served 7 major campaigns including Africa, Sicily, Italy, France, and Germany. He credits his skills to survive with his desire to return home and a dog he adopted who helped keep him warm on cold winter nights.
His service recognition is numerous and include: recorded memoirs at the National Archives in Washington D.C., The Triangle Flight of Honor in November 2010, opening ceremony in 2004 at the WWII War Memorial in Washington D.C., and the 70th Anniversary Recognition of D-Day at the National Memorial in Virginia. –
See more at:
http://www.legacy.com/obituaries/newsobserver/obituary.aspx?page=lifestory&pid=177999410#sthash.2zyideFP.dpuf
---
Rodivico L. 'Ed' Guerrero, Age 83, Passed away on December 15, 2015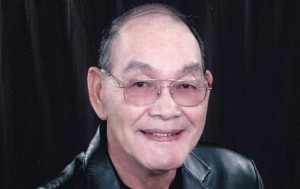 Funeral Mass for retired Sgt. 1st Class Rodivico L. "Ed" Guerrero, will be at noon Tuesday, Dec. 22, 2015, in Holy Family Catholic Church with the Rev. Philip Seeton, pastor, officiating.
Burial with full military honors will follow in Fort Sill National Cemetery, Elgin, under direction of Becker-Rabon Funeral Home.
Retired Sgt. 1st Class Rodivico L. "Ed" Guerrero, 83, Lawton, died Tuesday, Dec.15, 2015, in Lawton.
A wake service to be followed by a rosary will be at 6 p.m. Monday at the funeral home.
He was born May 29, 1932, in Asan, Guam. He married Delfina Cruz on Jan. 2, 1954, in Guam. She preceded him in death on June 16, 2008. He served in the U.S. Army for nearly 23 years. He was a veteran of both the Korean War and Vietnam. His awards include the Army of Occupation Medal (Germany), United Nations Service Medal, Combat Infantry Badge, Korean Service Medal, Good Conduct Medal, National Defense Service Medal with Oak Leaf Cluster, Vietnam Service Medal, Republic of Vietnam Campaign Medal, Republic of Vietnam Gallantry Cross with bronze service star, Bronze Star Medal, Drill Sergeant Identification Badge, six overseas service bars, Good Conduct Medal, National Defense Service Medal, Presidential Unit Citation, Meritorious Unit Commendation and the Republic of Vietnam Gallantry Cross Unit Citation. He retired from the Army on Oct. 31, 1973, at Fort Sill.
Following his retirement, he worked as a plumber with a plumbing contractor before going to work for civil service at Fort Sill as a plumber. He retired from civil service on Feb. 3, 1995.
Sgt. 1st Class Guerrero was a member of Holy Family Catholic Church and the St. Vincent DePaul Society. He was a member of the Korean and Vietnam Veteran Associations as well as the Chamorro Society. He was known for donating to many charities. Fishing, playing poker, playing softball, attending grandchildren's sporting events and playing the harmonica were some of the things he enjoyed. He also enjoyed gardening and was proud of his tomatoes, peppers and long green beans.
He is survived by his children and their spouses: Berty and John Peredo, Lawton, and their children: Sira Peredo and Dana Channell and husband Jon; Eddie and Nan Guerrero, Glendale, Ariz., and their daughter, Sabrina Guerrero; Lily and Rick Jung, Lawton, and their son, Jacob Jung and wife Kalie; Leo and Dawn Guerrero, Albuquerque, N.M., and their children: Shannon Gomez, Erica Fields, Javier Criado Jr. and wife Kersty, and Alejandro Criado; and Sophie and Gary Vaden, Cache, and their children: Nicole Vaden, Grant Vaden and Hannah Vaden; six great-grandchildren: Bly Gomez, Ava Jung, Ellis Jung, Jack Jung, Kylee Davidson and Ayden Criado; brother, Vicente L. "Ben" Guerrero, of Guam; two half brothers: Pedro L.G. "Pete" Guerrero and William L.G. Guerrero, both of Guam; two half sisters: Maria L.G. Taitaque, Guam; and Rosita L.G. Aguon, Tucson, Ariz.; and numerous nieces and nephews.
He was preceded in death by his brothers: Jesus L. Guerrero, Jose L. Guerrero and Danny L. Guerrero; and half brother, Alfred L.G. Guerrero.
An online guest book and sympathy cards are available at www.beckerfuneral.com.
---
Paul Michael Raymond, age 62. Passed away on March 24, 2011.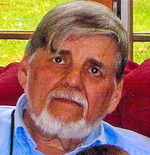 A Funeral Mass for Paul Michael Raymond, 62, was celebrated on Tuesday, March 29, 2011, in the Church of Saint Patrick, Watertown.
Mr. Raymond, a son of the late Edward A. and Patricia G. (Kimball) Raymond, was born in Boston. He grew up in Watertown, graduated from Watertown High School, and moved to Waltham in 1997. After high school, he enlisted in the US Army and served overseas in Vietnam. While in the Dinh Dinh Province, his unit was attacked heavily by the enemy and, after a long, intense battle with many casualties, his unit was able to regain control of the position and observation post that had been breached. Mr. Raymond, a Specialist 4th class, had received 2 overseas service bars and later served in the US Army Reserve.
Mr. Raymond, an Office Manager for G & D Tool Company in Salem, was a member of the 17th Artillery Regiment Association. He enjoyed cooking, watching sports, listening to music, and, most of all being with his family, especially his grandchildren. He died on Thursday evening, March 24, 2011, in the Massachusetts General Hospital, Boston, after a sudden illness.
He was the beloved husband for 41 years of Kathleen T. (Femia) Raymond; devoted father of Amy E. Corsi of Framingham, Watertown Firefighter Michael D. Raymond and his wife Jennifer of Waltham and Mark E. Raymond of Belchertown; dear brother of Edward A. Raymond of Gilbert, AZ., Richard E. Raymond of Freemont, NH, Michael P. Raymond of Inwood, W.Va, and Patricia J. Cahill of West Roxbury: and loving grandfather of Abigail Rose Corsi, Jack Raymond Corsi, Michael Sean Raymond and Jake Edward Raymond.
The Funeral was at the MacDonald, Rockwell & MacDonald Funeral Home at 270 Main St., on Rte. 20, Watertown, and followed by a Funeral Mass at 9 AM in the Church of St. Patrick, 212 Main St., Watertown.
---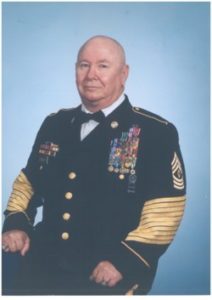 Thomas "Top" Jefferson Vernor
May 3, 1926  –  July 6, 2007
Thomas Top Jefferson Vernor 81, of Gautier, MS. passed away Friday, July 6, 2007 in Biloxi, MS.
Top as he was known was born May 3, 1926 in Dumas, Arkansas to the late Walter and Alma Vernor. He was a member of Calvary Baptist Church and a highly decorated veteran, having served in both the United States Navy and Army. He was awarded 3 Silver Stars , 7 Bronze Stars, 3 Army commendation Medals, Navy Marine Corps Medal, Soldiers Medal, Air Medal, 5 Purple Hearts, Vietnam Cross of GallantryGold Star, 7 Good Conduct Medals, 23 Battle Stars, The Combat Infantry Badge, Navy Presidential Unit Citation, 3 Army Presidential Citations, 3 Valores unit Citations, 2 Meritorious Unit Awards, 1 Korean Presidential Unit Citation, 1 Vietnamese Presidential Unit Award, 3 Vietnam Cross Gallantry with Palm and 2 Vietnam Civic Action Awards. After retirement from the armed forces he became a member of the Central Intelligence Agency and retired in 1991 with almost 50 years of service to his country. He served during World War II, the Korean Conflict and Vietnam. He was proud to be an American and lived a life that exemplifies his great love of country.

He survived by a sister, Alma Jean Cagle and her husband Emil of Canton , TX.; two brothers, Rev. Julius Lee Vernor and his wife Faye of Fairhope , AL and Richard Glen Vernor and his wife Judy of Arkadelphia, AK; a daughter, Deborah Louise Jones of Copperos Cove, TX; granddaughter, Laura Brooks; one great grandson; special caregiver Sue Cooper and numerous nieces , nephews and other friends and relatives.

Visitation will be Tuesday, July 10, 2007 from 6-8 pm at OBryant-OKeefe Funeral Home in Gautier, MS. Funeral Services will be Wednesday, July 11, 2007 at 11:00am from the funeral home chapel with full military honors.

Internment was at Arlington National Cemetery in Arlington VA.